Gayo, Sumatra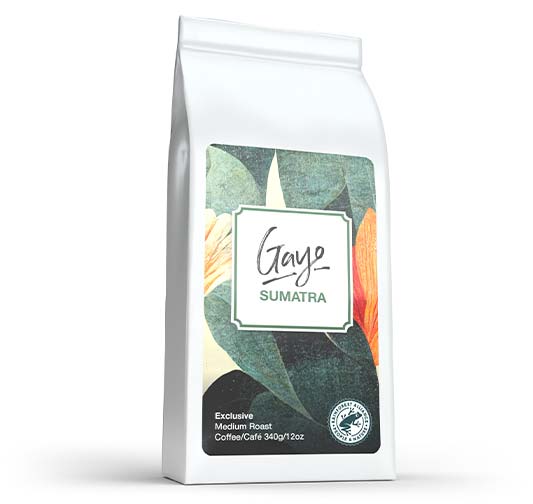 Our exclusive Gayo Sumatra's heavy mouthfeel and sweet creamy finish will make this coffee your favourite cold weather sip. Rich spice notes and the right amount of cocoa pairs well with cozy sweaters, sitting by the fire, and taking time for you!
Grown in Indonesia at the Rahmat Kinera Cooperative, this single origin coffee is Rainforest Alliance Certified, and makes the perfect, pre-wrapped gift!
Flavour profile
Aroma: Fruity
Taste: Dried fruit, cocoa, herbal
Mouth Feel: Creamy
Finish: Sweet
About Kayon
Coffee cultivation in Indonesia holds a 300-year-old story.
The Gayo highland region is the most well-known place in Indonesia for its high-quality Arabica beans and sustainably managed farms, mostly small family farms or home garden plots using traditional techniques. "Gayo" itself means "nice" and comes from the local tribe of around 85,000 people living in the mountains where this coffee is grown.
The Rahmat Kinera Cooperative is in Central Aceh, in an impressive landscape of lush rainforests, dramatic valleys and majestic volcanic terrain, all surrounded by natural forests. This exotic locale is the last place on earth where elephants, rhinos, tigers, clouded leopards, and orangutans are found in one area.
What is Giling Basah?
Unique to Sumatra, the Filing Basah process that semi-washes the coffee, giving the beans a full-bodied flavour with reduced acidity. The spicy notes, such as earthiness, tobacco, and herbs, are allowed to shine.